Dance Class Offerings
"Movement Lab is a powerful tool. It has fueled so much of my self learning in both mind and movement. You will explore emotions, attachments, and energies through sharing movement connections with yourself and others. The style is uniquely a movement lab. I can enjoy dance and movement in many ways but nothing compares to an hour long trance with your subconscious. All accompanied with a warm community, caringly created space, and consistently amazing tracks. Grateful to have grown roots in this practice. " student Amalia Daviero
The Dance Lab: 3Bodies and Lights Out
IN PERSON Mondays
Held at The Karuna Center, 112 Camino de la Placita
Check the calendar to make sure class is happening
3Bodies Movement Class 7p-8p MOUNTAIN TIME
Lights Out 8p-9p MOUNTAIN TIME
The Dance Lab
What is the 3Bodies Class? How many three's do you run into in your day? The purpose of this class is to use different tools found in improvisational dance to attend to the physical, mental and emotional body with the hope of creating unity in the individual and the recognition of our relationship with other. There is potential through a conscious approach to dance/movement to become more in tune with our active role in daily life as well as to develop the artistic expression for performance artists.
This evening class is for MovementLab company members and any community participants (trained or untrained lovers of dance) open to experiencing our process. We begin with drills and exercises for the physical body (based in many practices including Butoh, modern dance, yoga, Qi Gong), and story work to enhance our mental and emotional relationship to movement improvisation. Practice will include various elements of composition, use of props, sight/no sight, partnering, etc. Pen and paper is encouraged, and dance concludes with a drawing/sharing circle. No experience needed in dance to attend, just an open mind and heart to the possibilities unveiled through this moving meditation. Also a very beneficial class for dance artists looking to deepen their study in composition and the creative process. Retreats/residencies to come both in Taos, NM and abroad.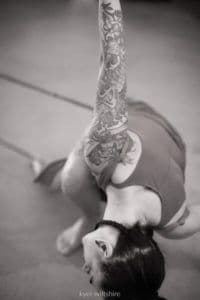 Creative Process:
Movement/dance: tones the organism and brings awareness of organism in space.
Elemental world: relating to the elemental world helps us relate to our surroundings
Study of other plants and animals / natural world : to understand our connectivity
Objects/props: for tactile and visual comprehension
Music: to connect to vibrational world in and around us, rhythm and flow to move energies in us and with each other
Creative Journaling: freeform drawing or writing at the conclusion of class for processing and group circle for sharing
Self-massage self/care: positive touch for a tactile connection to physical and energetic existence
Freeform dance: moving meditation, moving from intuition, less doing more observing body in response to music, surroundings, mood/emotional state, others.
Suggested donation: $17 for class (Lights Out is free when you take class)
Lights Out – Freeform Dance This one hour freeform dance is a no talking, no shoes, dimly lit room, allowing a more introspective and uninhibited safe space to explore your moving body in rhythm and play. 
Benefits:
helps develop and refine the awareness of our own movement style
deepens our understanding of our anatomical and kinetic body
helps us learn how to interact and adapt in different environments dancing for fun and in performance
enhances our spatial relationship with others and the impact of those interactions
helps us learn how to heal physically and emotionally through movement and state of mind
moving from our intuitive self our thinking mind can take the role of observer


Suggested donation: $17 for class (Lights Out is free when you take class)
Where do the donations for classes go?
Your monetary donation for class goes to help pay for rental of the space and any extra money brought in will be donated to Taos Land Trust. Thank you for your support and your offerings! Click HERE for more information on the Taos Land Grant. 
Check out some of my playlists on SoundCloud to get an idea….